Description: There is a white space in the market place for business travelers to have all their travel documents and preferences in one location digitally.
Timeline: 12 days, including 4 iterations (prototype design, test, contextual interview, update) with a team of 3.
Problem: There is a lack of communication, service and awareness from the hotel that causes stress and takes time and resources from the business traveler.
Challenge: To create a streamlined or "smart hotel" travel experience for business travelers.
Solution: To make business travel streamlined so it becomes the ultimate experience.
Method: Surveys, personas, concept map, word cloud, interviews, contextual inquiry, comparative and competitive analysis, usability testing, apptourage, paper prototype, sketching, prototype feedback, wireframes, user flows, site map, style guide, and mood board.
Role: While the team worked together on every aspect of the project, we also assigned each member the following roles: project manager, research, information architecture / prototyping, and visual design. My roles were project management and visual design.
Tools:
We began our research with a C & C analysis to determine key needs, what already exists in the market, and pain points of users. The C & C analysis helped us to MVP our features and create a concept map.
CONCEPT MAP
The concept help helped us prioritize concepts we wanted to explore further in our interviews.
INTERVIEW QUOTES
After conducting our interviews we where able to create our key persona.
KEY INSIGHTS
Don't want to talk with staff.

Want to be able to order amenities in advance.

Want an easy way to check in and out without having to wait.
Once we identified our key persona, we were able to begin paper prototype testing on users that fit our persona's traits.
Needs:
Convenient way to communicate with concierge.

Consolidated overview of travel information, reward programs, and personal preferences.

Easy way to adapt travel plans to travel circumstances.
Goals:
Better business travel experience overall.

Less stress of worrying if hotel room will be available at time of arrival.

Allows for more personal time while traveling for business.
The research appendix includes the following: scenario, screener results, Apptourage results, contextual inquiry, word cloud, interviews, and usability testing results.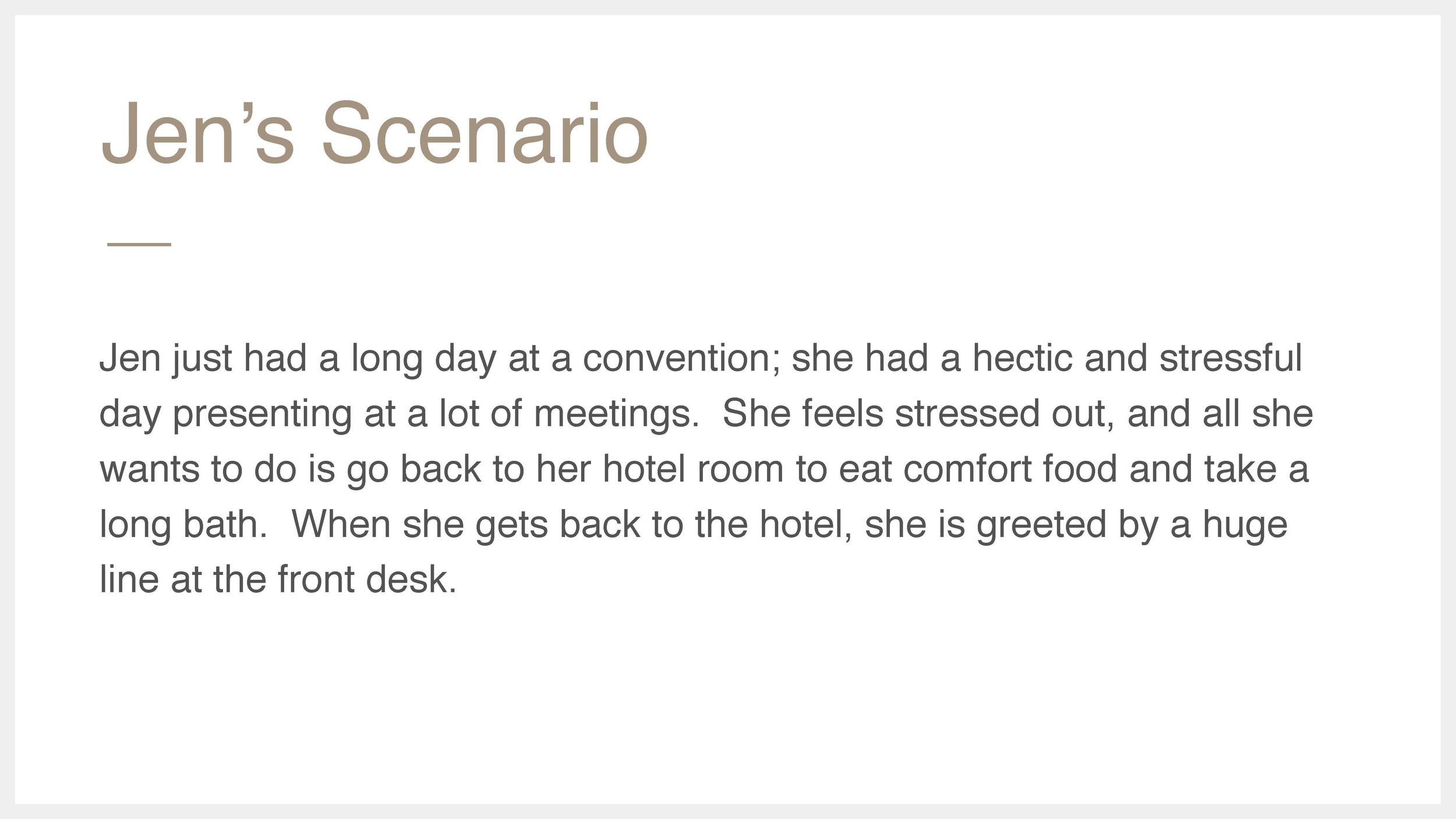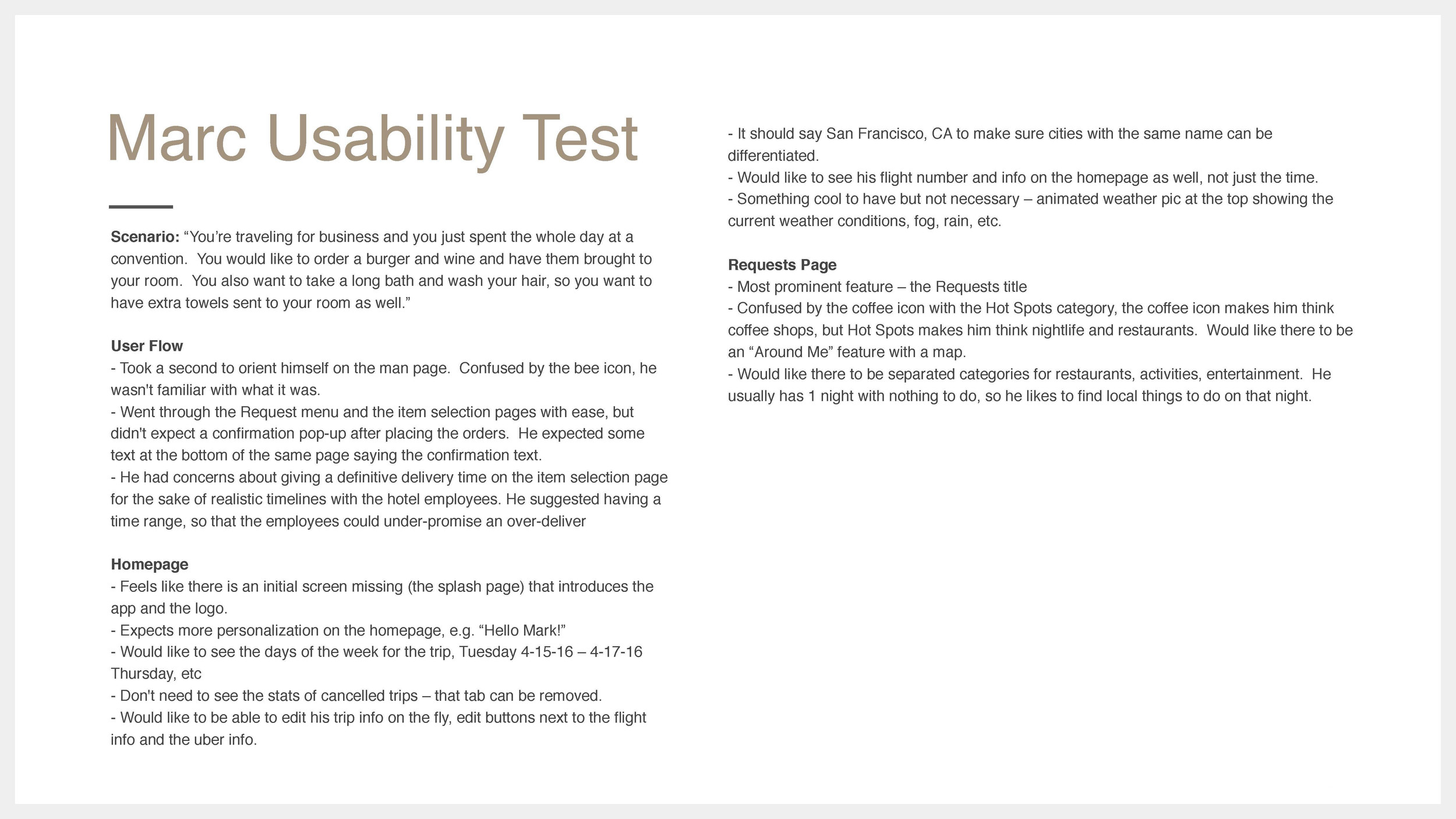 POPapp
Prototype in Action
Creating a paper prototype using POPapp was a quick way for our team to do user testing before we invested too much time into our high fidelity prototype.
Usability Testing Quotes
Key Insights
Want to be reminded which app they are using.

Want to have a "google maps" style feature showing places nearby.

Don't need to see canceled trips.

Want to see flight info.
Additional Prototyping and Information Architecture Work
Included below are user flows, sitemap, prototyping feedback, wireframes, and modular designs.
My role as the Visual Design Lead I choose to begin with a mood board to set the
tone and manner visually for our app. The color palette is mostly gray
tones with pops of teal, yellow, and coral red. I felt the Ace Hotel was a great source of inspiration for font and text layout.
The mood board was the key inspiration for creating the final style guide. Creating the style guide made it easy to keep a visual consistency throughout the app.
I did sketches throughout the process of research, prototyping, and visual design. Sketching was the quickest way to decide what was the best approach to take in the visual design process and made it very quick to get our first prototype into user testing.
Visual Design for Pages
Jen's User Flow
Next Steps
Build out and test Ben's user flow

Add more personalization features for the homepage.

Build out profile and rewards pages and evaluate.

Based upon feed back make weather feature animated.

Build out hi-fi prototype and continue contextual inquiries.

Do more user testing on messaging feature for early check-in according to feedback.
Meet the Team
Kim prototype and information architecture lead (left).
Niralee research lead (middle).
Sara (me) visual design and project manager lead (right).